Courageously innovative. Classically American.
Every custom crate created by the Great American Crate Company is not just a product, but a promise: They are a commitment to innovative, sustainable products, unmatched expertise and experience, and customer-focused communication.
Great American Crate Company's custom crates are durable, reusable, high quality, and cost efficient. And we do it all with a turnaround time that can't be beat.
It's not just our crates that will impress you. Our team is defined by its expertise, integrity, and trustworthiness. We understand your business, and we do what's right. It's a powerful combination our clients can rely on, now and always.
At the Great American Crate Company, crates are our passion. We can't wait to share that passion with your business.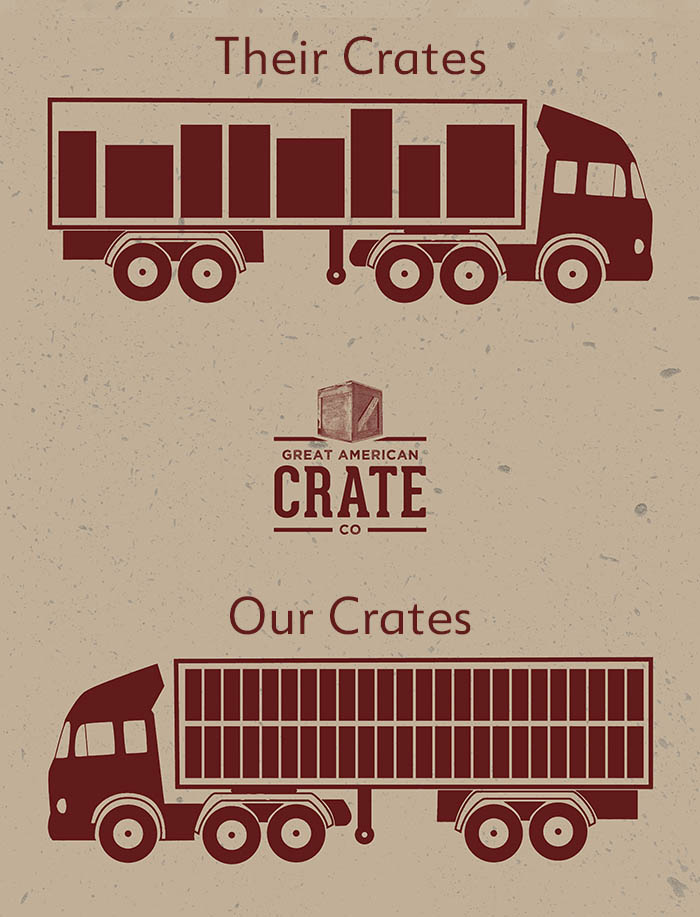 Benefits
Customization
At Great American Crate Company, we realize that your products are unique, and they deserve protection that is specifically suited to fit their unique shapes, dimensions, and needs. Each one of our crates is custom crafted, and will be designed with your product in mind.
Strength
Not only are our crates custom made, they are tough. Great American Crate Company crates are built to last, and the proof is in the product. Our crates are reusable up to 6 times–almost twice that of the competition. In addition, our show cases are superior in strength and durability to those of other crates. Your product is important to you, so protecting your product is important to us. You can be confident in our promise of the strongest, toughest, and most reliable crates available.
Storage
At Great American Crate Company, we know that when it comes to shipping your product, space is money. Each of our crates is designed with that in mind. Every crate is designed to be collapsible and compactly folded, requiring minimal space in your warehouse or transportation vehicle. Strong when in use and small when not, Great American Crate truly understands your crating needs, and accommodates those needs in every way possible.
Pricing
We believe a budget is a commitment, and we always honor our word. When we set a budget, we make sure to follow through, so there are no surprises when it comes to pricing. Also, you can rest easy knowing that every dollar you spend with Great American Crate Company is spent on American made goods and services. We create high quality, beautiful custom crates for you and your business, and we create American jobs in the process.
Shipping
We at Great American Crate Company understand that deadlines are one of the most important components of your business, and we respect that. Our crates are routinely delivered on time, often before projected deadlines, and we boast industry leading turnaround times. Even in tackling tougher orders, we rise to the challenge, often shipping within 1-2 business days. Whether you are planning ahead and need crates by a certain date, or you have an emergency and need crates immediately, Great American Crate Company is the right crating solution for your business. We are committed to getting your quality product to you when you need it.
Every company we partner with is unique, so it just makes sense for our crates to be unique too. Our custom crates are specifically designed to decrease cost of freight and labor, and increase product safety and profit.
The only thing that's the same about all our crates? The exemplary level of quality and care put into the craftsmanship of every single one.
When decades of custom design experience combine with cost-saving features and industry-leading turnaround times, the result is a product that really delivers.
Features of our shipping crates include:
Custom designs that improve product safety and reduce shipping costs
Protective foam inserts in several densities and material options
Reusable designs for increased crate lifespan
Plastic vapor barrier liner to guard against moisture damage during transoceanic shipments
When beauty and functionality must cooperate, Great American Crate Company provides durable display crates that protect your prized showroom presentation and your budget and timetable.